Dining in Austin, TX
In addition to the area's live music scene, Austin is known for its incredible food scene. Dining in Austin has never been better, with a range of incredible options just steps from our hotel.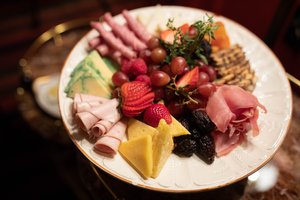 On- Site Dining
Dining in Austin has never been easier with a range of incredible on-site options to enjoy during your stay at the InterContinental Stephen F. Austin.
Stephen F's Bar
Enjoy a timeless cocktail or sample one of the delicious menu items available at Stephen F's Bar's! Guests can relax in the elegant atmosphere of the bar or head out to The Terrace, taking in views of the Texas State Capitol as you enjoy the balmy Texas weather.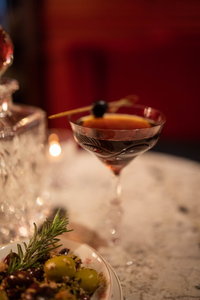 The Whisper Lounge
Grab a cocktail or canopy at our prohibition-era style speakeasy, The Whisper Room! Located in Stephen F's Bar, this reservation-only lounge can accommodate up to 10 guests comfortably amidst velvet curtains and ornate glassware.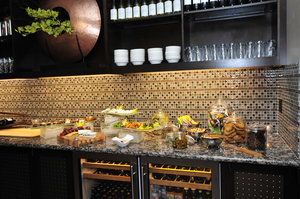 Club InterContinental
All guests are welcome to enjoy a delicious breakfast at the Club InterContinental Lounge! Order from the extensive a la carte menu, or help yourself to the breakfast buffet. Guests with Club InterContinental access can enjoy complimentary breakfast, snacks, and drinks throughout the day.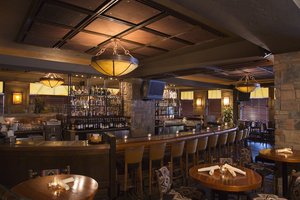 Roaring Fork
With an extensive menu featuring a selection of tasty wood-fired dishes, the Roaring Fork is the perfect spot to enjoy a dinner with family and friends. Enjoy the tasteful design and high quality service at this well-known Texas restaurant when enjoying a quick bite to eat, or rent one of their unique and intimate private dining spaces for meetings or social events.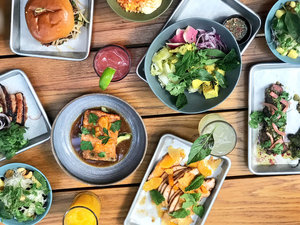 Local Spots
With renowned cuisine influenced by Texas staples and Mexican influences, Austin is one of the best spots to enjoy high-quality Tex-Mex dishes, sumptuous Barbeque, food truck bites, and craft beer.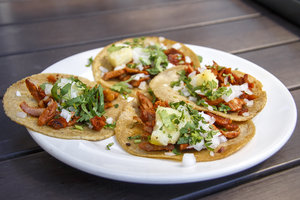 1412 S. Congress Ave.
Housed in an Austin landmark and nestled in the heart of eclectic SoCo, Gueros is a local favorite for tacos and much more. Gueros offers casual dining in an expansive and comfortable atmosphere.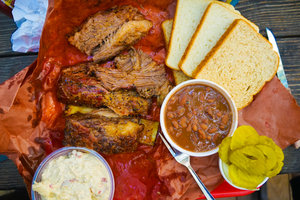 18300 FM 1826 Driftwood.
Thirty minutes from downtown Austin, its BYOB at this venerable cash-only, world-renowned BBQ spot. Country roads deliver you to a sprawling rustic setting where you'll enjoy recipes that date back to the wagon trains of the 1800s. Enjoy fresh lemonade and live music outdoors on the weekends.
401 West 2nd Street
A visit to Austin isn't complete without a stop at this legendary downtown barbecue joint! Guests can enjoy a delicious array of barbecue staples like ribs, chicken, and pulled pork, along with a hearty helping of appetizers, cocktails, and local beer.
The Austin Beer Garden Brewing Company
1305 W. Oltorf
Grab a craft brew at this spacious beer garden while indulging in a menu that has been designed to complement their selection of beers. The perfect spot to spend an evening with a group of friends, enjoy their weekly lineup of live music.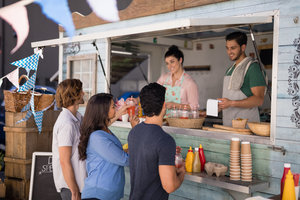 Austin is well known or its incredible food truck scene, offering everything from Texas staples to sushi. Parked in groups, food trucks are one of the top places to eat in Austin, TX!
Pangea Lounge
East 11th/Rosewood Food Trucks
Rainy Street Food Trucks
East Riverside Food Trucks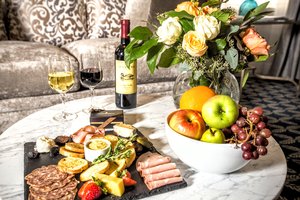 In-Room Dining
After a busy day spent exploring the city, some of the best dining in Austin can be brought right to your cozy hotel room at the InterContinental!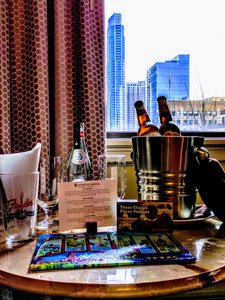 Room Service Options
Whether it's a late night snack or full course dinner, our extensive menu can satisfy any craving you might have. Enjoy specially prepared culinary creations created by our skilled chefs using fresh, local ingredients. Our team is happy to cater to any dietary restrictions or special requests you may have. Each room features our special in-room dining options you can order throughout your stay.